Let a Motor Do the Work For You
Attaching a series of specially designed bands to the rollers and incorporating a motor creates a Driven Roller Conveyor. These conveyor lines are ideal for transporting cardboard boxes, containers, barrels and so much more. The simplicity of the system allows for easy assembly, reconfiguration and replacement of parts as required.
Two Choices of Driven Conveyor
Two different styles are readily available in Australia:  Interroll PolyVee and the TR50 with O-rings.
Interroll PolyVee
Using Interroll components, a motor is integrated into one roller per section, which turns the adjacent rollers using small PolyVee belts. The galvanised steel rollers are attached to a T-slot aluminium frame, designed to suit the space. The conveyor is low-noise and the speed can be controlled easily by means of the 24V DC Drum Motor.
The conveyor can be divided up into sections allowing for different speeds across the full length.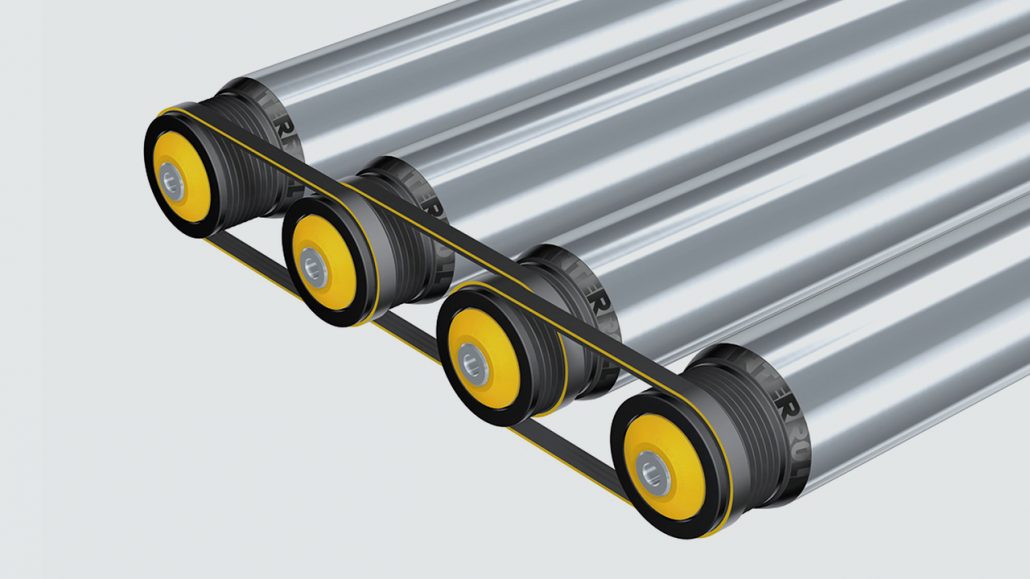 The Interroll PolyVee conveyor can suit a large number of applications. It can drive more torque than the TR50, allowing for heavier objects to be carried without any slip of the drive belts.
Send us an email with the dimensions you need, the reason you'd like it to be motorised and what you'll be putting on the conveyor. We can then work with you on a design and send you a quote.
A computer-generated drawing of your conveyor can be provided during the process to take the guess-work out of such an important purchase.
TR50 with O-rings
The TR50 Driven Roller Conveyor uses 50mm tubes and specially designed bearings with O-ring grooves. The frame is made up of 80×40 t-slot aluminium with groove profile inserted.
It suits lighter applications than the Interroll PolyVee and can be purchased with or without the motor supplied, depending on your preference.
The length, width and frame can all be customised to suit the space you need. You can also choose from either aluminium or plastic rollers. Plastic rollers create a more gentle environment for parts being transferred on the conveyor system.
The speed of the conveyor and configuration can be clarified during the design process.
Tell us what you need